---
2013 Events Calendar
January
S
M
T
W
T
F
S
1
2
3
4
5
6
7
8
9
10
11
12
13
14
15
16
17
18
19
20
21
22
23
24
25
26
27
28
29
30
31

February
S
M
T
W
T
F
S
1
2
3
4
5
6
7
8
9
10
11
12
13
14
15
16
17
18
19
20
21
22
23
24
25
26
27
28

March
S
M
T
W
T
F
S
1
2
3
4
5
6
7
8
9
10
11
12
13
14
15
16
17
18
19
20
21
22
23
24
25
26
27
28
29
30
31

April
S
M
T
W
T
F
S
1
2
3
4
5
6
7
8
9
10
11
12
13
14
15
16
17
18
19
20
21
22
23
24
25
26
27
28
29
30

May
S
M
T
W
T
F
S
1
2
3
4
5
6
7
8
9
10
11
12
13
14
15
16
17
18
19
20
21
22
23
24
25
26
27
28
29
30
31

June
S
M
T
W
T
F
S
1
2
3
4
5
6
7
8
9
10
11
12
13
14
15
16
17
18
19
20
21
22
23
24
25
26
27
28
29
30
---
Berkeley Community Theatre
Sunday, June 16, 2013 at 2:30 p.m.
Jerry Nagano at the Mighty Wurlitzer
Open to NorCal members and their guests
$12 Advance, $15 General
Driving Directions
---
The Genius of Young George Wright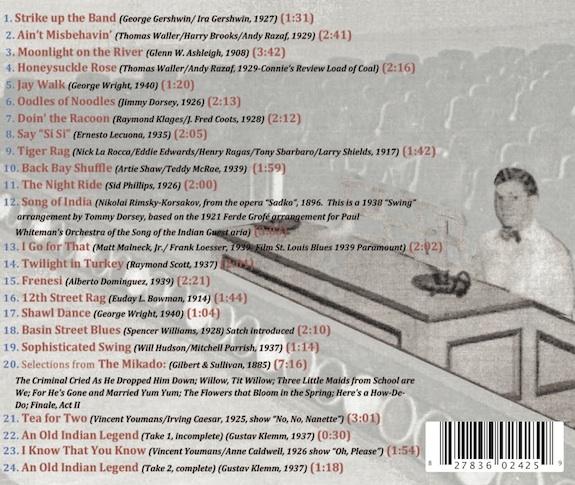 Listen to George Wright
George Wright played the music on this CD at Grant Union High School in 1940.

The CD is a gift from Sierra Chapter in exchange for a minimum donation of
$25 to the George Wright Memorial Theatre Pipe Organ Fund.
Donations of $50 or more are fully tax deductible.

To donate by check, make it payable to Sierra Chapter, ATOS, and mail it to:

Sierra Chapter, ATOS
P.O. Box 2017
Fair Oaks, CA 95628
---
American Theatre Organ Society
2013 ATOS Annual Convention
July 1–6, 2013
Atlanta
---
Sierra Chapter Facebook
Facebook helps you connect and share with the people in your life.
Sierra Chapter Facebook
---
Sierra Chapter Twitter
Don't miss any updates from Sierra Chapter. Sign up today!
Sierra Chapter Twitter
---
Sierra Chapter YouTube Channel
Visit our YouTube Channel to watch videos of Nathan Avakian, Matthew Bason,
Greg De Santis, Ken Double, Jerry Nagano, Everett Nourse, and Donnie Rankin.
Sierra Chapter YouTube Channel
---
Support Sierra Chapter
Please make a tax deductible contribution to Sierra Chapter.
Theatre pipe organ preservation is expensive! Your support is greatly appreciated.

Donation Form
Sierra Chapter, American Theatre Organ Society was organized as a California nonprofit public benefit corporation on October 17, 1968 and is recognized as tax-exempt under Section 501(c)(3) of the Internal Revenue Code and Section 23701d of the California Revenue and Taxation Code.