---
Berkeley Community Theatre
Sunday, November 5, 2017 at 2:30 p.m.
Zach Frame at the Mighty Wurlitzer
Stage Door Concert for NorCal Members $15
Join NorCal at the door for $20 and receive
free admission for yourself and a guest.
Amtrak Special Offer
Driving Directions
Zach Frame is a featured organist at the Organ Piper Pizza in Milwaukee.
---
Grant Union High School
George Wright Tribute Concert
Sunday, November 12, 2017 at 2:00 p.m.
Jerry Nagano at the Mighty Wurlitzer
Advance $10, General $12, Students FREE
Box Office opens at 1:00 p.m.
Driving Directions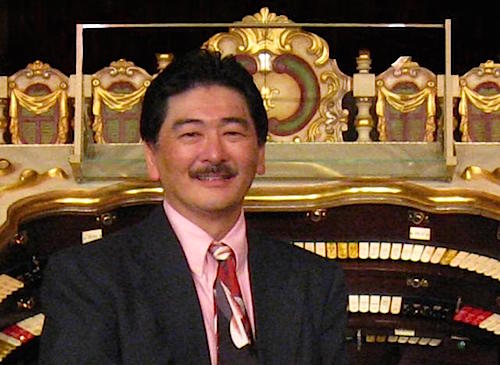 Jerry Nagano is the 2017 ATOS Organist of the Year.
---
ATOS Annual Convention
June 29–July 3, 2018
Pasadena Hilton Hotel, California
Convention Information
List of Events
Amtrak goes from Sacramento to the Pasadena Hilton!
Please contact the for more information.
---
New Mark Herman Video
"I am very excited that Pasadena's historic Foort Touring Moller
organ is about to receive lots of much needed work under my direction,
just in time for the 2018 ATOS Convention in Pasadena!" – Mark Herman
---
The Genius of George Wright
The Genius of George Wright is the authoritative biography
of the legendary theatre organist.
Book Website
---
Sierra Chapter Facebook
Facebook helps you connect and share with the people in your life.
Sierra Chapter Facebook
---
Sierra Chapter Twitter
Don't miss any updates from Sierra Chapter. Sign up today!
Sierra Chapter Twitter
---
Sierra Chapter YouTube Channel
Visit our YouTube Channel to watch 25 theatre organ videos.
Sierra Chapter YouTube Channel
---
Support Sierra Chapter
Please make a tax deductible contribution to Sierra Chapter.
Theatre pipe organ preservation is expensive! Your support is greatly appreciated.

Donation Form
Sierra Chapter, American Theatre Organ Society was organized as a California nonprofit public benefit corporation on October 17, 1968 and is recognized as tax-exempt under Section 501(c)(3) of the Internal Revenue Code and Section 23701d of the California Revenue and Taxation Code.